JFIEEI UZI orbeez gun gel blaster


The updated UZI orbeez gun comes with two magazines so you can shoot more rounds before having to reload. What's even better about this UZI gun is that there are three different settings for you to choose from - sniper, aim, and pistol mode - each one giving a unique thrill when shooting. Plus, the compact design means that carrying it around couldn't be easier!


How to soak orbeez properly?
The orbeez should be soaked in water for about 3-4 hours before they grow to around 7-8mm. The orbeez guns can fire 8 orbeez per second and shoot out up to 65ft away. It comes with 10,000 rounds of ammo that will keep your gun stocked for the entire battle.




About this UZI orbeez gun


Power: Rechargeable Battery
Mode: Full Auto/Semi-auto
Shooting Range: 50-65 ft
Magazine: 500 rounds
Battery charge time: 2-3 hours
Fire rate: up to 8 rounds per second
Ammunition: 7-8 mm water beads
Recommended age: 12+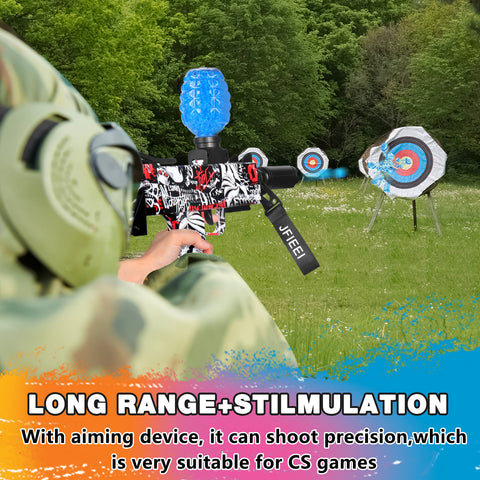 What includes?


-UZI orbeez gun
-10,000 rounds of ammo
-Protective goggles
-Hopper
-Rechargeable battery
-Charging cable
-Instruction


Attention!

Recommended for ages 12 +.
Use under adult supervision.
Avoid taking orbeez guns into public.
Do not shoot at strangers.
Do not paint the gun or freeze the orbeez.

For team battles, find gel guns in bulk here at low prices.