JFIEEI Gel Blaster - Apex R-99
The splatter ball gun has conquered the world and has become the most popular toy in 2022!! Kids and adults alike enjoy playing gell ball blasters because these games are fast-paced, adrenaline-inducing challenges that the whole family can enjoy!
This Newest Model R-99 splat gun features a faster speed and a longer range, so you can experience real and fun splatting!! The inner structure has also been improved to make it more durable. The whole summer can be spent with it!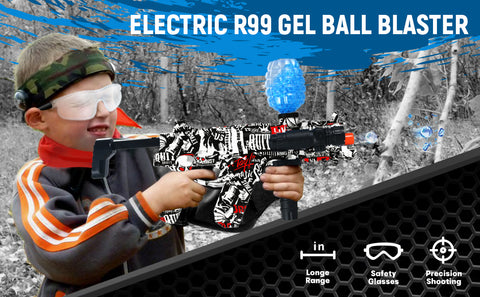 Electric Automatic Mode

JFIEEI gel blaster uses a rechargeable lithium battery (USB data cable included) suitable for long-term repeated use. After a shooting game, the battery should be removed and charged.

Non-toxic & Eco-friendly

Use biodegradable gel balls that break apart on impact and disappear completely when dry. It is recommended that the gel balls be soaked in water for 3-4 hours, and the best size is 7-8mm.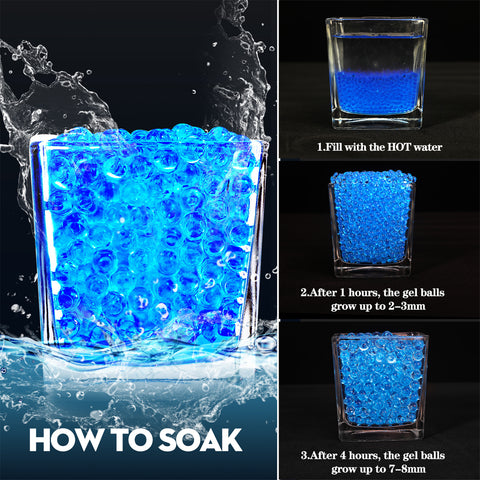 Unique Appearance

A complex printing process ensures strong adhesion and a smooth grip on the splatter ball blaster. Children can develop physical activity skills, aim skills, observation skills, and stamina in the battle game.

Have fun with these outdoor games
This exciting shooting game will bring you closer to your friends and family! Gel blasters are the perfect gift for Halloween, birthdays, Easter, Christmas, and group events.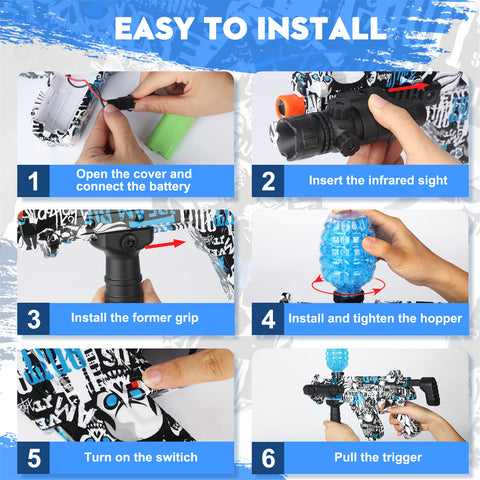 PACKAGE INCLUDES
1 x R99 Gel Blaster
1 x Tactical Red Dot Laser Light Attachment
1 x Rechargeable Battery
1 x USB Charging Cable
1 x Hopper
1 x Safety Glasses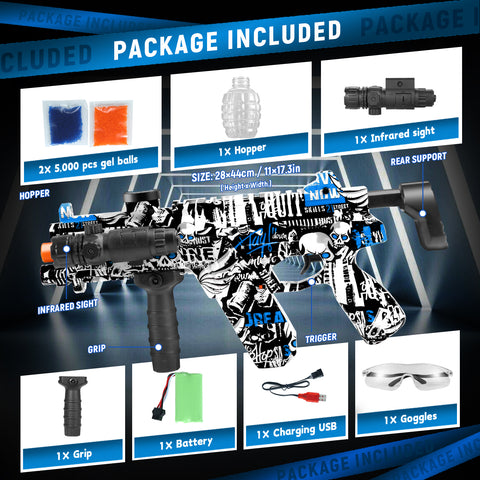 Safety Reminder
1. Always wear goggles when playing;
2. Charge the battery before playing;
3. Let the pellets soak for 2-4 hours for size 7-8mm;
4. Do not shoot at bystanders or strangers;
5. Avoid shooting at the face, head, eye, or ear;
6. Do not bring the toy gun out in public.
Check here for low-priced gel guns to buy in bulk for team battles.