JFIEEI Shell Ejecting Toy Gun
Glock toy guns are loaded with soft foam bullets, which are made of high-quality EVA material, meaning they are non-hazardous for children to use and are not harmful to their bodies. These toy guns are ideal for exercising muscles, learning aiming skills, observing, and endurance.
Safe and Soft Bullets
This toy gun comes with soft bullets, which are made from rubber foam that won't hurt children and won't harm their bodies either. It has a range of 35 feet for straight shots and 28 feet for arc shots.

Fun Outdoor Activities

Besides being a fun game to play, toy shooting guns also provide challenges and positive experiences for kids, such as physical exercise, concentration improvement, aiming skills, observation, and endurance.



Perfect Gift Idea

This cool toy gun is a great teaching model. It would be thoughtful holiday, Christmas, and birthday gifts for boys and girls ages 8+. An ideal gift for children or teens interested in learning to shoot.



Package Included

1 Glock toy gun
20 Soft bullets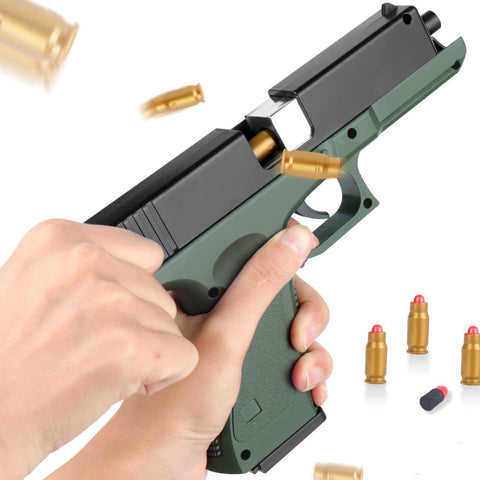 FAQ
Q: Will it break if I pull the trigger with no ammo in it?
A: No. Children can use this toy as a fidget toy or as a role-playing toy.
Q: Does it hurt when hit by the dart?
A: No. The bullet is made of soft foam material which does not hurt people.
Q: Will it get stuck?
A: No, this toy gun launches smoothly.