JFIEEI SCORPION GEL BLASTER SPLATTER BALL GUN

Videos of the splatter guns have been viewed by millions of people online and shared on social media. It is also known as a gel blaster, orbeez gun, etc. This safe alternative to paintball guns or BB guns shoots natural, non-toxic gel balls. As long as they're less powerful than paintball guns, parents feel secure that their children are safe playing with them.




Why choose this Scorpion model?
Over the past year, scorpion guns have been the most popular splatter ball guns. By transforming the traditional magazine into a drum, not only is the gaming experience enhanced but water is prevented from entering the blaster, which prolongs its life.

Cool appearance and high performance make it a great gift idea for boys and girls for birthdays, Halloween, Thanksgiving, and Christmas!



About this Scorpion Model
Power: Rechargeable Battery
Mode: Full Auto/Semi-auto
Shooting Range: 60-75 ft
Magazine: 500 rounds
Battery charge time: 2-3 hours
Fire rate: up to 8 rounds per second
Ammunition: 7-8 mm water beads
Recommended age: 12+



What includes?
- Scorpion splatter ball gun
-20,000 rounds of ammo
-Protective goggles
-Drum
-Rechargeable battery
-Charging cable
-Aiming device
-Instruction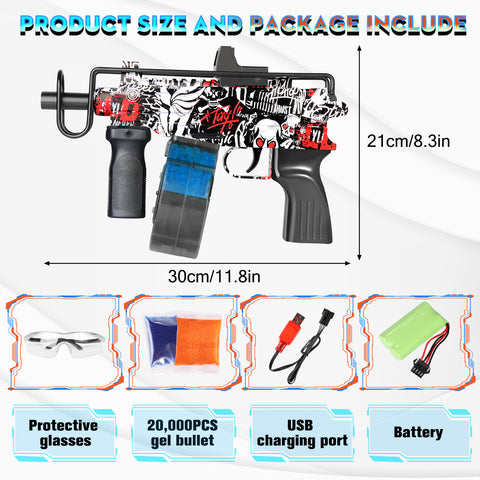 Attention!
Recommended for ages 12 +.
Use under adult supervision.
Splatter ball guns should not be taken into public.
Do not shoot at strangers.
Do not paint the gun or freeze the gel beads.


Check here for low-priced gel guns to buy in bulk for team battles.