The Most Exciting Outdoor Activities for Summer 2022

   Summer 2022 seems to be different from previous summers. People who have been under the epidemic for more than two years are more eager to go out this summer and let off steam. Summer vacation can be more challenging for parents, who have to figure out what to do every day with their kids.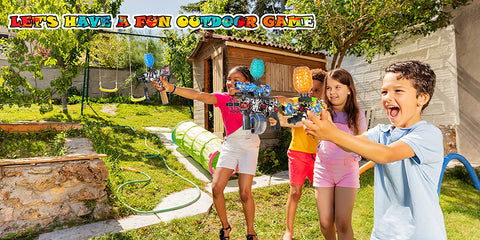 Let's introduce you to a new toy gun: Gel Ball Launcher, a fun and exciting product for adults and kids alike. You can invite your friends to play this adrenaline-filled shooter game, and your kids will forget about their PSPs and TVs and just play with their new toys.


   The gel launcher is an electric toy gun. Bullets are made from safe, non-toxic polymer water beads. After soaking them for 3-4 hours to expand to 7-8mm, you can load them with magazines and shoot continuously. After the water bomb is launched, it will shatter when it encounters an obstacle, then evaporate, so it won't need to be cleaned. There's also a rechargeable battery that lets you play for an entire afternoon with just 2-3 hours of charging.


   The gel blaster is a new toy gun that is similar to BB guns. However, it is safer than BB guns and has a higher range and power than nerf guns, so you can enjoy the excitement without any harm. Despite the water bomb's relatively low power, we still hope players wear goggles. Protect your skin by wearing long sleeves and helmets. Don't bring it in public and don't shoot passersby.


   JFIEEI offers a variety of different models of gel ball blasters, shipped from the US, and delivered within 3-5 days after placing the order. New subscribers can get an additional pack of 30,000 water beads for free, and there are summer bulk purchase discounts. Come shop now.